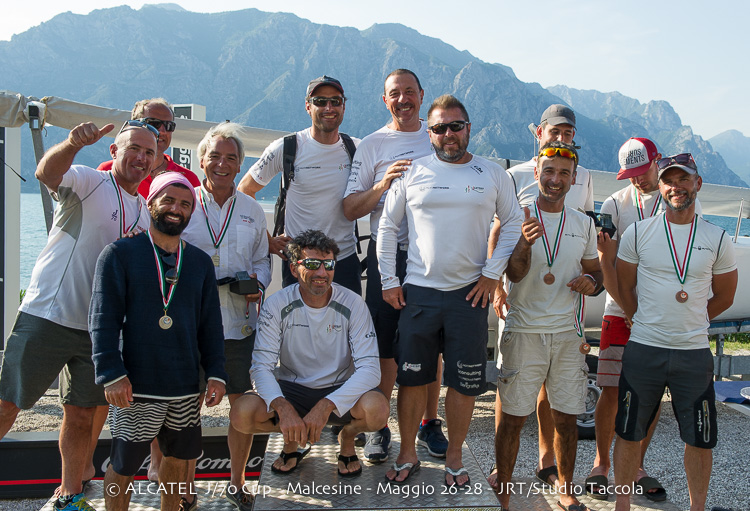 Malcesine – It has been a weekend of exciting sailing in Malcesine, where last Sunday, May 28th, the curtain fell over the second event of the season ALCATEL J/70 CUP, Italian circuit reserved to J/70 boats, open to participants from all over the world.
For the second time in a row, the victory went to Calvi Network by Carlo Alberini that, in a series of eight races, scored four bullets, probably also thanks to the strength and experience of the crew in its historical composition: Branko Brcin calling tactics, Karlo Hmeljak at main and Sergio Blosi in the double role of trimmer and skipper. Calvi Network was also the winner of the Alpen Cup prize, awarded to the crew that scored the best result over the eight races without discard.
The two bullets scored in the last day by Marco Salvi's Vertigo, granted the British crew where Victor Diaz was calling tactics, to gain the second placement on podium, with a margin of 24 points over the third classified, Polish entry Mag Ewa by owner Krzysztof Krempec and Croatian tactician Tomislav Basic.
The winner of the 2015 and 2016 editions of ALCATEL J/70 CUP, L'Elagain by Franco Solerio, where Daniele Cassinari, CEO of North Sails Italia was calling tactics, missed the podium, closing in fourth position, because of the same overall score as Mag Ewa but worse score line.
The Corinthian fleet, composed of 26 crews representing eight nations, turned out to be very competitive and in many cases also able to keep up with the professionals, with crews that in many races gained placements within the top-five of the overall ranking.
The victory, inside this fleet, went to Gianfranco Noè's White Hawk, which already earned some successes in this season, closing as second the Adriatic Cup and winning the first event of ALCATEL J/70 CUP in Sanremo in the Corinthian division.
Second placement for Pensavo Peggio! by Andrea Magni and Marco Laurino calling tactics, boat of the day in the second day of the event; third step of the podium went to Magie Das Sailing Team by Alessandro Zampori.
The event went on every day even after racing: aperitifs offered by Aperol Spritz and KitchenAid were welcoming crews when back on dock, while those who preferred to keep living strong emotions could take exciting test drives with professional Alfa Romeo pilots. As in the best tradition of ALCATEL J/70 CUP, a raffle awarded prizes by Alcatel, Fitbit and Gill, official clothing supplier, in a measure that no crew present at the aperitif was left empty-handed. The road-tour offered by OhhItaly to the best foreign crew in the overall ranking went to the Polish crew of Mag Ewa.
The J/70 fleet now remains on the Garda lake, where the third event of ALCATEL J/70 CUP is scheduled for June 23rd-20th in Riva del Garda.
Final results, after 8 races, 1 discard
1. Calvi Network, pt. 14
2. Vertigo, pt. 31
3. Mag Ewa, pt. 55
4. L'Elagain, pt.55
5. Enfant Terrible, pt. 73