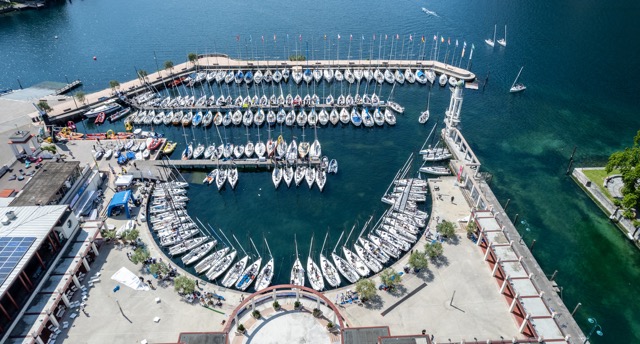 Riva del Garda (Italy), June 3rd 2023 – The warm Ora wind that accompanied the first two days of the Corinthian World Cup in Riva del Garda, allowing the complete series of six regattas to take place, didn't fill in today, leaving the J/70 fleet waiting in vain for its arrival.
After a couple of hours of waiting, the Race Committee chaired by Giancarlo Crevatin decided to send the seventy-five participating crews back to their moorings, postponing the next regattas in the series until tomorrow.
With today's no-race, the ranking remains crystallized to the six races completed in the first two days: Gianfranco Noè's White Hawk leads the ranking, followed by the Estonian entry Lenny of Tonu Toniste and the Australians of Celestial. The Spanish of Let it Be and the Brazilians of Three Musketeers complete the top five.
The last three races of the series can be held tomorrow by 3.30 pm. The first warning signal will be displayed at 8.30AM.
J/70 Italian Class is supported, for the 2023 season, by Lincoln International, Alphazer, Garmin, Armare Ropes, Serena Wines, Vela Mania, Zhik, UtilGraph, IPA and OneOcean Foundation.
Info and rankings from the Corinthian World Cup 2023 are available at this link.